Why Won't My Brake Lights Turn Off? | Harlingen, TX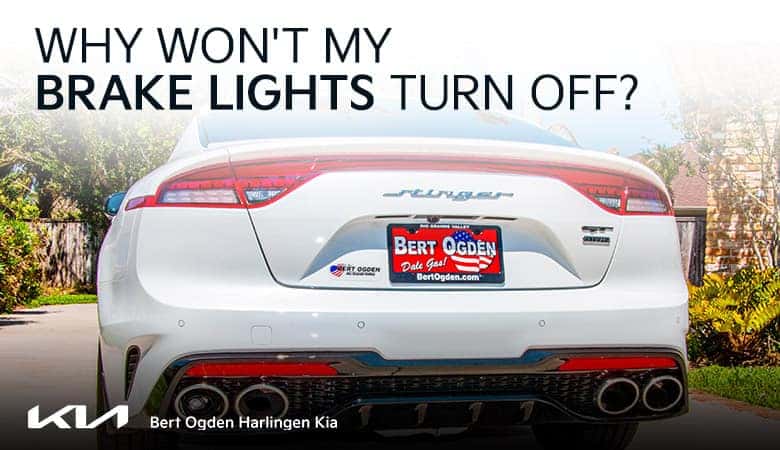 Brake lights are an important safety feature on every vehicle, as they signal to drivers behind you when you are slowing down or coming to a stop. But if your brake lights are always on, the driver behind you won't know when you are slowing down, and this could lead to a rear-end collision.
If your brake lights won't turn off, your best bet is to visit our service technicians here at Bert Ogden Harlingen Kia in Harlingen, Texas. They will troubleshoot and resolve the issue for you.
If you're trying to tackle the issue on your own, here are four potential causes to explore.
An Issue With the Brake Pedal
Is the brake pedal simply stuck or lightly engaged? If so, this is what is causing your brake lights to stay on. You may be able to fix it by stepping on it a few times and dislodging any debris from underneath. If it still isn't working, bring it in to our team.
An Issue With the Electric Current
This common reason for brake lights not turning off deals with the electrical system. Since it involves working with the battery, we suggest bringing your vehicle into the service bay at Bert Ogden Harlingen Kia.
A Damaged Switch
The culprit may be a broken brake switch. These are pressed every time you apply pressure to your brake pedal. However, it is possible that this switch has somehow been permanently pressed down. The level of work required to diagnose and fix this issue is too high for those who are not car experts. It is wiser to bring your vehicle into our mechanics for this situation.
A Problem With the Pedal Stop
It is possible that the pedal stop for your brakes — that keeps it from being pressed too far — has worn down and broken.
---
For all your brake lights and brakes-related questions and problems, contact the service experts at Bert Ogden Harlingen Kia in Harlingen, Texas.